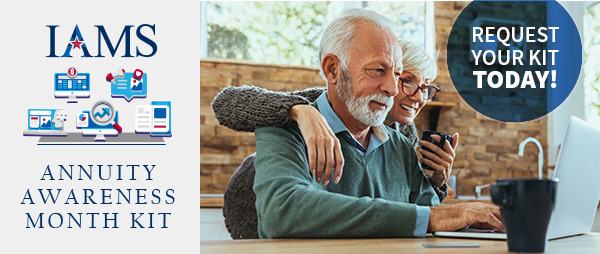 Help your audience discover the power of annuities
June is Annuity Awareness Month, which means it's the ideal time to talk to clients and prospects about using annuities to enhance their retirement plans. Need some resources to get the conversation started? We've been busy preparing our 2023 Annuity Awareness Month Kit, with turnkey marketing pieces and a wealth of fresh information to help you educate people on this beneficial financial tool.
This complimentary kit includes:
A Managing Risk in Retirement guide

An Understanding Annuities PowerPoint presentation

Shareable social post images and copy

IAMS' 2023 Taxable Equivalent Yield Table

Consumer-facing concept pages

Letter and email templates and more!
Enter your information to request your 2023 IAMS Annuity Awareness Month Kit!