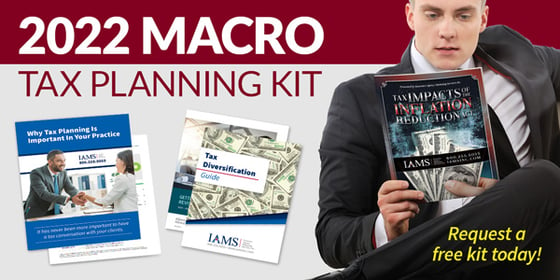 Request your complimentary IAMS 2022 Macro Tax Planning Kit today while they are still available!

Retirees and near-retirees often face a higher tax burden than necessary due to a complicated system and little-known snags that can cause big losses. With changes due to increasing interest rates, market volatility, and the Inflation Reduction Act becoming law, proactive tax planning with your clients is more important than ever.
IAMS' 2022 Macro Tax Planning Kit has the resources you need to start a critical conversation that could help your clients preserve more of their hard-earned wealth over time.

Your complimentary kit includes:
Factfinders, presentations, questionnaires, and checklists
An Inflation Reduction Act guide
A consumer-facing Smart Wealth Accumulation (IUL) guide
Updated tax tables
Turnkey prospecting letters and social media posts

A 1040 Guide

And much more!