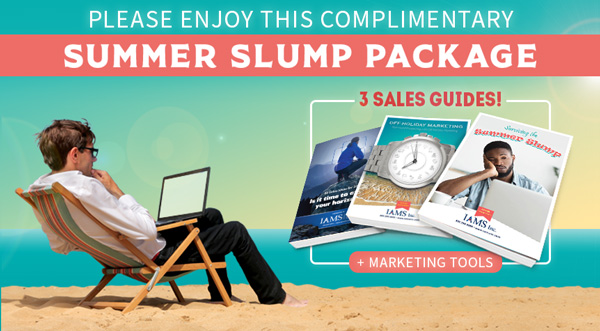 The summer months are a great time to be a kid, teacher, or lifeguard. But for advisors, this can be a down period with reduced client flow and limited prospecting opportunities. Some take the summer lull as a chance to kick back and relax. Others struggle to find ways to power through - and this is without even factoring in our new concerns, namely the continued presence of COVID-19 and its effects on our daily lives.
To help you make the most out of this seasonal downturn, we've prepared a Summer Slump Package. This free sales kit includes three of our most popular guides as well as timely lead magnet materials.
Included in this package:
22 Sales Ideas for 2022
Off-Holiday Marketing
Surviving the Summer Slump
Fireworks Lead Magnets / Raffle Cards
To claim this package, submit your information here or call 800-255-5055 today.